Olympic's boat building process involves both innovative techniques, as well as traditional craftsmanship. In every stage, only the best materials and brand name components are used to ensure long-lasting quality. But the key component in producing a boat is the people who build it. With that in mind, Olympic staff has been highly trained and specialised in a specific sector.
With safety as a first priority, Olympic boats comply to the CE regulations. However, we didn't stay there. We have established even higher standards than those necessary, so that you don't have to worry about a thing when you travel with an Olympic. And to be sure of that, all our boats are constructed as unsinkable.
Our hulls have been tested thoroughly to provide the best performance. Also, all Olympic boats are now using reversed chines in order to deflect spray downwards and produce a drier running boat, with better tracking and even more stability in tight turns.
In our design process, we blend both style and functionality to create a combination of luxury, performance and safety. Computer-aided design (CAD) is used to design the boat and optimise every centimetre to the maximum. Plus, a great deal of time is dedicated to the details that make every new Olympic boat unique.
Quality control is performed throughout the entire build process. The lamination process is closely calibrated for ratios of glass to resin, for correct pressures on spraying equipment, for resin temperatures, catalyst percentages and cure time. These details ensure maximum structural strength and resistance to the hard marine environment. Finally, all boat parts remain in the mould through the entire curing process, thereby eliminating any possibility of warping.
Thanks to our carefully studied production process, we are able to offer to our customers Olympic's five-year limited hull warranty for all our boat models.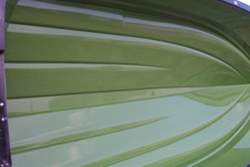 The process of creating a new mould requires all the experience we have gathered 26 years at work. After all, a boat's finish and design are only as good as the mould that forms it. Once the new model has been designed to the computer, a plug is created for each fiberglass part. We use the traditional wooden plug technique, even though it is more expensive and time-consuming than other methods.
The reason is that it is the only way to ensure a perfect design representation and flawless finish. All parts are double-checked before the production of the mould begins.Only special resins are used to create a mould, capable to preserve their strength and gloss finish for many uses. Nevertheless, each mould is replaced before its maximum life-span to ensure the best quality possible.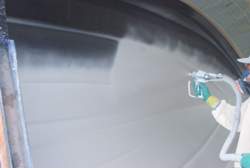 Each gel coat is applied through its own individual spray gun to ensure colour integrity. All units receive a minimum cure time of 12 hours before the lamination process begins, which offers maximum strength and finish..
Next, a special glass tissue and chopped glass are applied with special resin formulation. This layer offers superior resistance to chemicals and water and prevents print through.
Olympic's lamination schedule calls for seven alternating layers of fiberglass mat and woven roving, each hand-laid, with double thickness at the keel.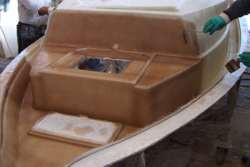 Lamination is one of the most important steps and plays a key role in the strength of the boat. That's why Olympic uses only the best materials and processes available for laminating decks and hulls. Lamination starts with a clean mould.
The mould is waxed using a special compound to create a smooth and imperfection free surface. Once the mould is prepared and given final inspection, it is ready for the lay-up process. Each mould is sprayed with a high grade gelcoat far superior than standard gelcoats, as it offers superior blister and UV resistance, gloss finish and toughness. Gelcoat is sprayed into the mould at different thickness where needed. Thicker on the hull bottom for better water barrier protection and thinner on the deck for flexibility.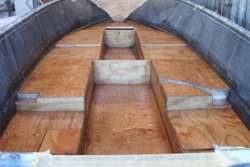 Once the hull has cured for 14 hours the preassembled, wood grid stringer systems are put in place. Next, floors, transoms, bulkheads are fiberglassed to the hull. All wooden parts are made from marine plywood and are completely encapsulated in hand-rolled fiberglass.
Additionally, all bilge areas are gelcoated to create a watertight and easy to clean barrier. A solid composite transom adds extra strength at that critical point and absorbs all the torque of the drive system.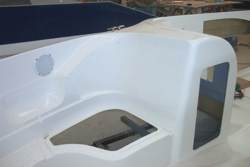 All rough edges are removed and cut outs are made. Precision templates are used for all cut-outs to ensure accuracy. At this point of the building process, all parts receive a quality inspection.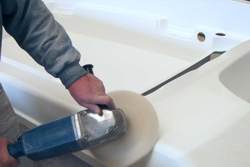 We have adopted an extra polishing stage, which gives to all Olympic boats an ultimate gloss finish that stands out in the competition. The boat is now ready for final assembly. The process involves building both a hull and deck separate, then joining the two near the end of the process.